The Science: Cordyceps Sinensis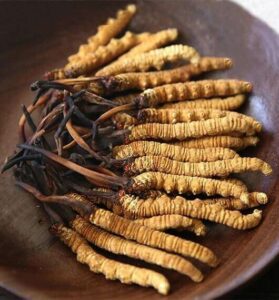 The caterpillar fungus lives on the Tibetan Plateau, including parts of India and western China, otherwise known as the "Roof of the World." During the 1993 National Games in Beijing, China, three female runners set 5 world records for 1500, 3000, and 10,000-meter races. After testing negative for anabolic steroids and other banned substances, the coach later revealed that the runners had taken C. Sinensis extracts. Anecdotal evidence of the potential performance-enhancing properties of C. Sinensis ignited consumer interest. In fact, in China, C. Sinensis has long been used in TCM to "invigorate the lung and nourish the kidney" for hundreds of years.
Demand for the fungi was further accentuated by the numerous scientific reports stating specific pro-health-related claims. C. Sinensis tonic can be purchased over the counter and is believed to provide the immune system with a boost, especially after a severe illness. An ever-growing list of symptoms remedied using C. Sinensis includes the respiratory, renal, liver, nervous system, cardiovascular diseases, cancerous tumors, decreased libido, stress, fatigue, and aging. Long before any of these studies had been published, C. Sinensis has officially been classified as a drug in the Chinese Pharmacopoeia since 1964. [1-5]
These statements have not been evaluated by the FDA. This information is not intended to diagnose, treat, cure or prevent any disease.
MUSHROOM RESEARCH & REFERENCE:
[1] C. Dong, Y. YaoIn, ,vitro evaluation of antioxidant activities of aqueous extracts from natural and cultured mycelia of Cordyceps sinensis, Swiss society of Food Science and Technology, 41 (2008), pp. 669-677
[2] R. Bai, Y. Ren, H. Yu Elements determination and their relation to immunity, Gansu Chinese Medical College Bulletin, 14 (1997), pp. 25-27
[3] J.-H. Koh, K.-M. Kim, J.-M. Kim, J.-C. Song, H.-J. SuhAntifatique and antistress effect of the hot-water fraction from mycelia of Cordyceps sinensis, Biological and Pharmaceutical Bulletin, 26 (2003), pp. 691-
[4] Z. Liu, P. Li, D. Zhao, H. Tang, J. GuoProtective effect of extract of Cordyceps sinensis in middle cerebral artery occlusion-induced focal cerebral ischemia in rats, Behavioral and Brain Functions, 6 (2010), pp. 61-
[5] Peter XinChen, SunanWang,ShaopingNie,MassimoMarcone, Properties of Cordyceps Sinensis: A review, Journal of Functional Foods Volume 5, Issue 2, April 2013, Pages 550-569